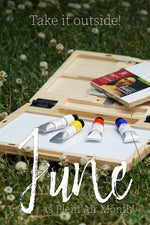 A Short History of Plein Air
June is Plein Air month here at Gwartzman's! We spoke with New Wave, the makers of these amazing pochade boxes on June 8th on Instagram Live (here's a link to watch the recording on our IGTV, or YouTube, if you prefer).

We also have a demo scheduled with Royal Talens on how to make the best use of various art products while creating in the great outdoors, RSVP here.
 
But what does "Plein Air" mean anyways? Literally translated, it means "outdoors" in French. Before the late 19th century, painters stayed indoors for oil painting, as commercially prepared paint wasn't yet available. Painters and their assistants would create their own paints by mulling pigments with linseed oil and had no easy way of carrying the paints around.
 
The creation of tube paints allowed artists to leave their studios behind and equally importantly, paint in a non-academic setting. Until the early 20th century, learning at the French Academy of Beaux-Arts was considered the best way to become an artist in France. This method of learning art spread throughout Europe and the Western world. The Academy had a very narrowly defined and rigid method of teaching. By the late 19th century, some artists found it stifling and old fashioned. Common subjects were nude figures, portraits, creating allegorical scenes from the Bible and Roman mythology, or still life images.
Claude Monet Painting on the Edge of a Wood, John Singer Sargent
Academic painting included spending significant amounts of time planning a drawing around a figure, and slowly layering the paint, building glazes, and ending up with a highly rendered, realistic image. Plein Air painting was seen as the opposite of academic painting. 
While there can be figures involved with Plein Air painting, the focus is generally on landscape. Instead of many rounds of planning and waiting (sometimes weeks) for layers of oil paint to dry, plein air painting was conducted "alla prima" meaning "first attempt" in Italian. Alla prima paintings are generally completed in one sitting, and made with "wet on wet" technique, as opposed to waiting for the painting to dry. This direct manner of painting created a much more textural piece of art than the academic paintings, and were painted from life and the artist's vision rather than from statues and studies of other images.
Some prominent artists who popularized painting en Plein Air were Claude Monet and Pierre-Auguste Renoir, who would go on to found the Impressionist movement, and continued painting en Plein Air for the rest of their careers. The trend for painting outdoors and capturing landscapes spread throughout the western world. In Canada, some of our most famous painters worked en Plein Air, including the Group of Seven and Tom Thompson.
Log Jam: Sketch for The Drive, Tom Thompson
While Plein Air painting started with oil paints, it can be adapted to watercolour and acrylics as well. It's important to have the correct tools with you when painting plein air, to help your session go as smoothly as possible.
While the impressionists worked with traditional oils, Gwartzman's recommends Cobra Studio Oil Paints. These water soluble oils allow for easier clean up (just water! No solvents necessary.) than traditional oils.
U.go Pochade boxes keep your painting materials so wet paint won't smudge and offers a place to keep all your supplies contained.
This Whiskey Painters collapsible travel cup flattens into a small disc. Perfect for holding solvents or water!
As for surfaces, these boards from Ampersand are thin and compact, and preprimed. Not to shift from Gwartzman's  stretched canvas, Tri-Art's AluPanels are also handy.
If you're a watercolorist, these professional art sets from Stoneground will help you create the perfect outdoor palette.
Or, why not try The New Spring - Shky'ehziggwun Paintstone Set from Beam which come in a waterproof waxed canvas, perfect for the outdoors.
Working on white paper in direct sunlight can be hard on the eyes. Check out these toned watercolour notebooks from Hahnemuehle. 
The best paintbrushes for painting on the go are collapsible travel brushes! We've got a range available in sable and synthetic fibres from Tintoretto, Grey Matters, and Da Vinci.
Whatever art products you choose, June is the perfect month to try plein air!