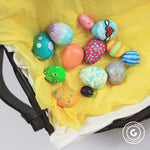 Easter is a beautiful holiday - in terms of the art, colours, and patterns. No matter if and how you celebrate the holiday weekend you'll no doubt see shades of pastel blue, pink, purple, yellow, and green and of course eggs!
If you think about it, eggs are a blank canvas that you can decorate and design with different colours and/or patterns. So that's why for this year, we at Gwartzman's sculpted eggs out of DAS Air-Hardening Clay and then paint them with acrylics. 
Step 1 is to hydrate and incorporate the packaged clay with a bit of water. This process involves almost kneading the clay to soften it and get it ready for sculpting. 
Step 2 is to roll the clay out into a ball shape, whatever size you choose. And then to slowly squeeze and taper out one side to be a little bit longer to get that egg shape. It's important to do this part slowly to get an even shape all around. We suggest to create different sizes of eggs.
Step 3 is when you are happy with your sculpted shapes, to set them aside to let them air dry. DAS clay is great for it's ease of sculpting and that it dries in 24 hours. 
Step 4 is the fun part. After leaving the eggs to dry for 24 hours, it's time to get the paint and brushes out. You can use any brand acrylic paint, we used Gwartzman's acrylic paints and Liquitex acrylic gouache paints. DAS clay is great for using acrylic paint once it dries. 
 And you're done! Once the acrylic paint is all dry you'll have finished and beautiful hand-made Easter eggs that you can use for decoration or anything really because they will last. 
We hope you try this project out. It's perfect for kids and adults of all ages. Happy Easter!