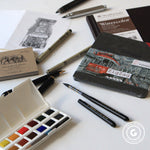 We at Gwartzman's are big fans of urban sketching and supporters of the Urban Sketching Toronto Chapter (@usktoronto on Instagram) so naturally we have a vast collection of travel-friendly products designed for urban sketching!
Here's a breakdown of tools that you need to get started on creating art out on-location:
 Pocket Brush 
Might we suggest the Tintoretto - Pocket Brush - Synthetic Squirrel - Series 1337 - Round. This brush is the best watercolour pocket brushes choice. It cap of the brush works as the handle to give you a full-size brush when working but is quite compact when you're putting it away or taking it with you on your travels.
We have 3 recommendations for your urban sketching journal or sketchbook. The first is the Hahnemuhle Zig-Zag Mini Hardcover Watercolour Book. The watercolour paper is folded in accordian style to create wode panoram and it's 'Instagram-sized' so you can snap a picture of your sketch and share it online.
The second is the SM-LT - Layflat Sketch Album. This sketchbook in particular by the brand is great for all kinds of drawing with pens, chalks, charcoal, but most importantly the layflat binding allows you to use one page or 2 for a full spread. SM-LT make various sketchbooks so don't feel the need to limit yourself to just this one!
Last but not least is the Strathmore - 400 Series Hardcover Watercolour Journal. This is an intermediate grade of watercolor paper, ideal for watercolor, gouache and acrylic. It features a durable Smyth-sewn binding to allow the jounral to lay flat.
If you want to include some colour in your urban sketching, watercolour is perfect because it's buildable and dries so quick! Plus you only need to add water. We carry a few different sets by Winsor & Newton Cotman and Van Gogh. These pocket-sized set has a built-in palette useful for mixing and a handy finger spot for holding onto the palette. 
Pencil,  Pen or Fountain Pen
There are loads of pencils, pens, and fountain pens that are perfect for urban sketching but we are going to suggest some of our and our customers' favourites. 
One is definitely is Sakura Pigma Micron Pens. These come individually or in a set of 3 or 6. These Pigma Microns have been loved for over 25 years because of their reliable and permeant ink that dries very quickly and their precise fineliner tips.
Another is Kaweco 5.6mm Pencil - Sketch Up Metal or Kaweco Fountain Pens. The Sketch Up lead holders are the perfect model from this brand for technical and artistic drawings. It's a light and elegant design made for any travels.
And finally, if you're a lover of fountain pens we must suggest the Sailor - Compass Series - Fude Fountain Pen. These are amazing for sketching, lettering and of course, urban sketching. They write smoothly and are able to adjust the line in a wide range. 
We hope this blog post opened your eyes to some beloved urban sketching tools and products and gave you the inspiration to try out drawing and sketching on-location in your city or area!