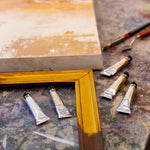 Sometimes you have a product you know is amazing and kinda wish everyone knew about it.
Today we are discussing Daler-Rowney's Goldfinger. It's an unusual name and not as well known as some other products in the art material industry.

Goldfinger is an all purpose rub on paste that works on so many surfaces and applications.
It's available in five finishes: Antique Gold (a deep gold colour similar to 24kt gold), Sovereign Gold (bright gold), Green Gold (hint of green colour- also popular for taxidermy), Silver, and Copper.
It's made with premium quality diacetone alcohol and ethanol so it doesn't dry too quickly while using it. It can be applied with a brush, soft cloth, painting knife or your finger! Although popular for restoration of frames and antiques, Goldfinger can be used in your oil paints, in clay or wood decoration, mouldings for imitation ormolu furniture, textiles, leather, plastics, model making, greeting cards and so much more. It's just that versatile!

Still made in England. Available at Gwartzman's in a 22ml tube.
Videos and photos from Daler-Rowney