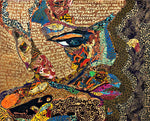 Artist Spotlight: Apanaki Temitayo M
Apanaki Temitayo M is a Toronto-based multi-disciplinary artist. She is the 1st Artist-In- Wellness for CAMH. Was the 2017/2018 Workman Arts Artist-In-Residence. As part of Workman Arts Art-Cart Program at CAMH, she teaches participants with mental health and drug addiction. 
Ti Amor: I Am Not My Hair, Apanaki Temitayo M
Ibukun Ami, Apanaki Temitayo M
She has pieces featured at Workman Arts, Being Scene 18th Annual Juried Exhibition 2019 at the TMAC Gallery. Oju Olurun: Eye of God I is currently a part of CAMH Corporate Collection. The Amazing Nina Simone Documentary Film by Jeff Lieberman, with her piece Nina Simone Fragmented. 
Nina Simone Fragmented, Apanaki Temitayo M
The first woman of colour to be in Room Magazine: Woman of Color Issue for 2016. Oshun Blooming was the face of Grow Room Feminist Literary Festival 2018 in Vancouver, which is a part private collection of Donna Slaught.
Oju Olorun I, Apanaki Temitayo M
You can find more of Apanaki Temitayo M's work here: 
Website: apanaki-temitayo-m.pixels.com
Instagram: www.instagram.com/apanakitemitayom/