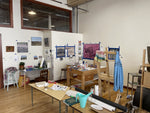 Our Artist Community | Melissa Neil
Melissa Neil is known for her painted landscapes on mylar and linen. Her work pays tribute to the ephemeral, wild, and sentimental found in forms of nature - both naturally occurring and manufactured by humans - often drawing on such imagery as gravel pits, brush piles, sand dunes, sand pits, beach vegetation and structures.




Her most recent series Saltation the fleeting nature of the sand dune beach environment is appreciated from both the vantage point of wide vistas and closer viewed poetic details. Lushly painted soft sandy paths cut through the vegetation to romantic lakeside views, wind-swept maram grass and tangles of beach wormwood.




Melissa Neil is a graduate of the Ontario College of Art and Design. Her work has been exhibited at Carnegie Gallery, (Dundas), Youme Gallery (Hamilton), Hamilton Public Library, Assembly Gallery (Hamilton), Toronto Outdoor Art Exhibition, 2016; Carmichael Canadian Landscape Exhibition: Tradition Transformed, Orillia Museum of Art & History; Studio Huddle, Toronto, 2014 and at Fine & Dandy window gallery, Toronto, 2014. Melissa is a recipient of the City of Hamilton, City Enrichment Fund Emerging Artist Project Grant. Her work is held in private collections in Ontario.




Melissa works out of the historic Cotton Factory in Hamilton, Ontario. Find her work on Instagram or on her webpage:

Instagram: @melissa_neil_
Email: www.melissaneil@gmail.com