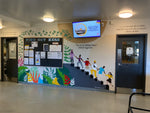 Our Artist Community | Harleen Sekhon
Harleen Sekhon is an experienced self-taught visual artist and muralist from Toronto whose passion for art began at an early age. With a Bachelor of Science in Kinesiology and working in the health promotion field, she continues to pursue her love for visual arts and explore different styles in her work. Previously, Harleen worked on local mural projects for organizations and partners including Women Paint, Arts Etobicoke, the City of Toronto for Cultural Hotspot, Bell Box Canada, and StreetARToronto. She has also exhibited at Visual Arts Mississauga.


Through my recent work, I explored the theme to inspire and empower youth who are experiencing homelessness. The famous quote by Robert Ingersoll, "We rise by lifting others," is illustrated in the mural by six young individuals of diverse backgrounds helping one another rise up the stairs. I incorporated abstract plant elements to demonstrate how youth have the power to grow into change makers and motivate other youth as well as themselves to flourish. Two additional inspirational phrases were also incorporated into the mural to remind the youth to look for their inner strength and motivation regardless of their circumstances. The Youth Without Shelter Organization's branding colours are represented throughout the mural.




I was really touched by the feedback from the youth in this shelter, who would stop and take a moment to look at the mural as I worked on it for hours each day and night. Right away I could see how inspired they felt, some of the youth even expressed their excitement to me in person as they watched this mural come to life. Many also felt recognized and represented in the painting and the quotes have given them daily inspiration to look at. This art piece that I created transformed the space by making it more vibrant and welcoming, but most importantly, empowering for the youth. Thank you to Youth Without Shelter for this unique opportunity and incredible experience.

Process video of the mural is below or at this link!
Harleen's Instagram: @harleensart