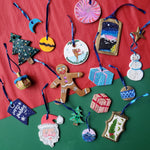 Art Project: Clay Ornaments
The holiday season is here! What better way to get in the holiday spirit than to create some beautiful ornaments! The great thing about ornaments is that they can be virtually any size or shape that you can decorate and design with any colours and/or patterns for anywhere in your home (not just on the tree!)
This year, the Gwartzman's team sculpted and painted their own ornaments. It's a simple and fun craft that you can easily do at home.

Materials you'll need:
Step 1
Hydrate and wedge the packaged clay with some water. This process involves almost kneading the clay to soften it and get it ready for sculpting. 
Step 2
Once the clay is ready, roll the clay out into a thin layer. Roll it to about a quarter of an inch. You don't want it to be too thick or else it will take very long to dry. 



Step 3
Now comes the fun part - making and carving the ornament into whatever you can imagine.



Don't forget to create a little hole so you can easily loop rope or string through it to hang your ornament.




Step 4
When you're happy with your design and have doe any carving, set aside your ornament to air dry. DAS clay is great for it's ease of sculpting and that it dries in 24 hours. 



Step 5
To finish your wonderful handmade ornament, you painting. Acrylic paint is the best to use as there are so many colours and brands available to get any effect you desire, but the layers of paint dry fast. We used Gwartzman's acrylic paints for the present ornament pictured, but Posca markers also work great! 




And you're done! Once the acrylic paint is all dry you'll have finished and beautiful hand-made clay ornament. Add a piece of ribbon or string to hang up your ornaments anywhere.



A photo of all the handmade ornaments done by the Gwartzman's team

No matter what or how you celebrate, we hope you spend it with some art. Happy Holidays!