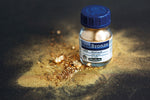 Schmincke Aqua Bronzes are dry metallic powders with a watersoluble binder that can be used to add a shiny metallic accents to your watercolour or gouache artwork. Just add water to activate the powders!




These can also be used on less absorbent surfaces such as paper, cardboard, painting board or canvas. Formulated with real metal pigments, making these paints are opaque, glossy and also extremely lightfast.




A little goes a long way so start with a small amount of water. Water influences the opacity, adhesion and gloss of the colour. Add more water for a more thin shimmery effect, or less for a rich and opaque metallic paint. For maximum metallic impact, use the Aqua Bronzes at the very end of your painting before varnishing! They can be rewet if no varnish has been used.

It's recommended to use a fixative depending on the medium (e.g. bookmarks and postcards) and the end usage. The Aqua Bronzes can be mixed with each other or with other gouache paint to tint the colour to your liking, but be sure to use a different palette, brush, and water glass.




Available in 20ml bottles in 5 colours; Rich Gold, Pale Rich Gold, Pale Gold, Copper, and Silver.
Shop them now.