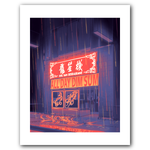 Artist Spotlight: Anson Ng
Portrait of Anson Ng
Dim Sum, Anson Ng
Dundas and Huron, Anson Ng
Dragon City
, Anson Ng
Chinese Bakery, Anson Ng
Swatow Restaurant, Anson Ng
House of Gourmet, Anson Ng
Anson Ng
is a Toronto based artist who immigrated to Canada from Thailand in 1993. As he was growing up he spent a lot of time in Chinatown because his family operated a restaurant for nearly two decades. Over the course of the pandemic his has been drawn to buildings and restaurants from his childhood and attempts to honour them in his current work.
All artwork is available for view and purchase at
www.helloanson.com/shop
from the link in his bio.