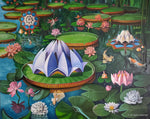 Artist Spotlight: Haris Sardar
portrait of Haris Sardar
Haris is a Canadian-Pakistani visual artist and an actuary. He currently lives and practices his disciplines in Toronto.
Having started his visual art practice at a very young age, he was trained in watercolour and sculpture in high school in Lahore Pakistan. He held his first glass painting and blown glass exhibition at age 15. Haris moved to Canada for university, decided to pursue a career in finance and qualified as an actuary.
After an 18-year hiatus and visits to numerous prominent museums across the globe, the final straw that ignited him to follow his passion for fine arts was a visit to Dali's crypt in Figueres, Spain. Since then, he has self-taught oil painting techniques and created unique pieces, which have been highly sought-after by collectors from around the world.
Black and White Swans, Haris Sardar
Golden Temple, Haris Sardar
Haris describes his work as referential surrealism, which is heavily influenced by his travels, immersion in multicultural societies and exposure to life in the East and West. His contemporary paintings depict fantastical compositions of architectural and floral elements. The inspiration behind the architectural works are his personal views on oneness of humanity without borders of religion, race or culture. His floral paintings take on a more playful note, while also serving as an ode to iconic beauty and the strength of femininity.
Lotus, Haris Sardar
Oren, Haris Sardar
Muskokan Dream, Haris Sardar

Haris is currently collecting two series for an international art fair followed up by a solo show in Toronto.
You can find Haris Sardar's work at his website, and on instagram.