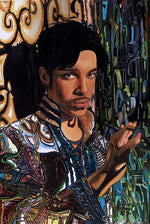 Artist Spotlight: Denise LaFrance
Denise
LaFrance is a 56-year-old self-taught painter living in Toronto Canada's Little Italy neighbourhood.
I've been painting for over 30 years and I am a self-taught painter who paints in mainly watercolour but also oil and acrylic and I like to draw as well in graphite.
Portrait of Denise LaFrance
7, Denise LaFrance
For the past nine years, I've been living with primary progressive multiple sclerosis and now, I can no longer walk and rely on a mobility scooter. I am very weak, in almost constant pain and my balance is severely affected. It feels like I'm always in a canoe on the water, even when I'm sitting down. 
The activity of painting helps me not to worry about the hard things in life that I can't control and it makes me happy and it's fun and my art makes other people happy. Painting is a good way for me to get my emotions out in a constructive way. I have been a prolific painter for over 30 years and now, it's more of a challenge (with my health) but I'm going to keep going until I can't do it anymore.
Beloved Daniel, Denise LaFrance
Chinese Radio Ghost, Denise LaFrance
Lar & Bri, NYC, Denise LaFrance
Denise paints in many different styles and subject matters. Representative. Surreal. Abstract.