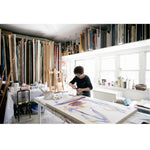 Show Your Space | Judy Singer
My name is Judy Singer and I have been a professional artist since 1974, which is when I had my first solo exhibit at Toronto's Pollock Gallery.  I have been a regular of Gwartzman's since 1970 when I first entered York University as a studio major.  For many years, my studio was a few blocks from the store. As you might imagine, I'm very attached to the Gwartzman's and their wonderful staff (especially James!!).

Judy Singer's Studio
I have exhibited extensively in Canada and the United States and was chosen in 1982 as one of two artists to represent Canada at the Carnegie International.  I started teaching at York in 1976 up until 2005. After I left York, I  started teaching private students and groups in my studio.  I also give lectures to groups that hire me.
In 1985, my landscape architect husband designed and built my 400 square foot studio on the back of our newly purchased house.  It overlooks  our backyard and has 10 foot ceilings and lots of built in storage, although there is never enough of that!  It's really a dream come true to have such a studio and I haven't had to pay rent to someone else in 35 years.
The Inner Face, Judy Singer
When the pandemic started, I had to cancel my teaching and the lectures that I was booked for plus an upcoming exhibit.
The Unsayable, Judy Singer
How has my art practice changed?  It seems that I'm not painting as much as I did, but when I do, I feel more daring.  I've always been interested in bright colours and much to my surprise, I started to use black instead of white.  I am utterly surprised that the use of black has made my colours even brighter.  I am enjoying the feeling of opening up more, of being more daring, of not assigning judgment on this use of black.