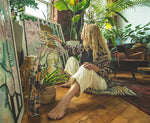 Show Your Space | Krista Sobocan
I am a Toronto based contemporary artist, with a degree of Arts from U of W. Working in mixed media and often painting surrealist female figures and self portraits, I have shown at galleries across the city including SteamWhistle Gallery, Skier Gallery, Freedom Factory, Evergreen Brickworks and more. The focus of my work is to express my internal world while encouraging feminine empowerment and sexual liberation.

 


Since around this time last year, my studio practice has certainly evolved. Prior to COVID, my loft studio space was used for photography, film and events. My easel and work station would be stored away to make room for clients who were working in the space, and I only brought them out when it was time to work on a piece.
After the first lockdown, I needed a creative outlet to express my feelings of frustration, fear and loneliness. I brought out my easel and my paints, and began working away on my Quarantine Self Portrait (still a work in progress). 
Rather than putting away my paints at the end of a session, I chose to keep them out and pick up a brush whenever the inspiration arose, which was more often since I was always gazing at whatever work was in progress. 
Since I had more time being home every day, and was in no rush to finish the work, I began working more with oil paints; a medium I had no patience for when previously creating. 
I began to reconnect with my painting as a meditative practice, and have since slowed down immensely in my process. 
Having my work station always ready to go, I find myself painting more than ever and have developed a new appreciation for the flow state and ease of mind that my practise allows me. 
I have made more pieces this year than I have in the last few years, and plan to continue to keep my work station right next to my windows that provide the best light to work, but also just a peaceful and inspiring environment to enable my creativity to flow. 
Website & Portfolio
Instagram