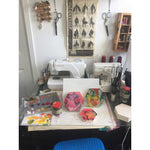 Show Your Space | Kristen D'Aquila
Our artist of the week is Kristen D'Aquila:
"I was let go from my full-time office job in April of 2020 and since then I've had significantly more free time to work on my art.  However, with the combined stress of Covid and unemployment, not always the motivation to work on new things.  I have a studio space at Flick the Switch Studios in the Grange (
www.flicktheswitch.org
or
@flicktheswitchart
on instagram) which I've managed to keep during the pandemic.
Kristen D'Aquila's Studio at Flick the Switch
The space I am in is shared, so depending on the state of Toronto I am only going in when the studio is empty. I've also temporarily moved in with my partner for the majority of the pandemic and I'm currently making smaller paintings in what is usually their sewing area. 
Stylistically I think my work has actually remained pretty similar but the places I've been working as well as frequency and sizing has definitely evolved.  I've started larger works and more ambitious projects than I would have previously, trying to take advantage of the studio space and time I have.
Cauldron, Kristen D'Aquila
Clot, Kristen D'Aquila
I view my art practice as a way to stay grounded and get into a flow state and it's definitely been helpful for my mental health to be able to continue to make art during these times." 
Nest, Kristen D'Aquila
Vortex, Kristen D'Aquila
Kristen D'Aquila lives in Toronto, and holds a degree in Fine Art: Drawing and Painting from the Ontario College of Art and Design. She re-imagines familiar forms from the natural world into the abstract and lets found shapes and textures inform her work. She explores the visceral qualities of oil paint to describe inner states and convey mood through the suggestion of organic forms. Drawing inspiration from branches, vines, organs, blood, galaxies, nests, and cells to create new worlds.