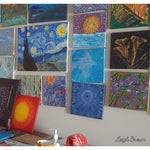 Show Your Space | Leigh Brown
"I had never picked up a brush in all my 54 yrs, never considered myself very artistic. Then Covid hit, and I lost my mum and My life changed forever. I became lost, as I had lost my job and my best friend. One day back in May 2020 I ordered a bunch of canvases & paint and well now it's an obsession. It's so calming, I have so much to learn still, but I'm absolutely loving it. One of my paintings I worked so hard on I call him Mad Scientist."
Leigh Brown's Studio
Mad Scientist, Leigh Brown.
You can find more of Leigh's work on her
Instagram
.