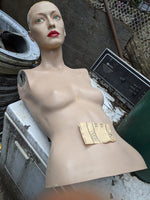 Show Your Space | Kosta Svetch
Our artist of the week is Kosta Svech, @sum_1_ls

"Before the pandemic I used to have difficulties containing a pattern or a style in my art, also due to daily commute to work I was drained and didn't have the energy. But I was able to collaborate with local artists that Inspired new techniques.

During lockdown I was fortunate enough to be able to work from home which gave me plenty of time to explore my talents. Also, to have an open sir space where local artists would pass by to add to the wall.


Found Art Object, Kosta Svech

I have to admit I don't think I've used a traditional canvases, most of my art is depicted on junk I found on the street. The goal was to create an art space for people to collaborate and exhibit their art, but due to the pandemic all of that has been postponed indefinitely. The wall mural is a collaborative project with 3 artists, and the bust is a solo work."
Collaborative Mural, Kosta Svech
Backyard Panorama 1, Kosta Svech
Backyard Panorama 2, Kosta Svech