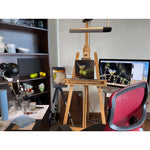 Show Your Space | Rose Tanner
"
I have changed my practice since the pandemic and I'm super excited about it. I found interest in Still life again after many years of working with photographs. I'm an Avian artist so I rely on photographs for my subjects.  Now I'm looking for all kinds of narratives for my birds to land in. If it had not been for the pandemic I may have never taken an online still life workshop. 
Rose Tanner's Studio
I set up a bookshelf where I can contain my light, design my composition and keep still life objects at hand. On the other side of my workspace I keep the bird reference for my scene.
I hope my work inspires people to spend time outdoors and find a reason to be in nature.  Many people do not see birds because they are small and fleeting, but I witness the most extraordinary behavior in the field. When I paint birds, my goal is for the viewer to connect with the playful, human side of birds; to see into their eyes and realize there is much more than expected.
Magnolia Warbler,
 Rose Tanner
Wood Thrush on Grandma's Tea Cups, Rose Tanner
Bee Curious, Rose Tanner
James and Margaret, Rose Tanner
Rose Tanner is an award-winning artist who loves the outdoors and studying birds. She is dedicated to portraying her subjects using traditional oil painting techniques. She believes it's her attention to their inner being that give's them their lifelike quality in her paintings. She travels widely for her subjects and is active in supporting endangered birds and their habitat.
You can see more of her work

here

.