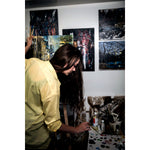 Show Your Space | Ruslana Levandovska
Our Share Your Space Artist of the week is Ruslana Levandovska.

"I work in oil on canvas mainly (also charcoal and watercolour) and the space is definitely crampier than before. What has definitely changed is the preparation time it takes before a painting can get started - such as waiting for additional supplies to arrive. However, some materials are in such short supply that they are very difficult to find - at one point I struggled to find linseed oil! And if that happens mid-painting, where you realize you've run out and find out it's out of stock everywhere - there's no choice but to wait until possibly it appears again like a rare pokemon. As an artist, you've got to get creative as materials run low, including canvases and increasingly so.
Rusalana Levandovska in her studio
One of the biggest troubles I found was to find a specific varnish for a commissioned painting I completed, that typically I had no trouble with in the past, which ended up with half a day spent just calling up stores all over the GTA and finding one nearly in Oakville that had just a bottle or two left. In this process, I've found out that not only the stores of various chains have run out, but they're also not resupplying it until further notice - when will that be? Who can tell. This extends to a number of paints that I've used up, specific brands and colours, that are now out of stock for the last several months with no note on when they may come back. All in all, we must now stock up on "necessities" in the studio, as we can't just casually drop by an art store to quickly pick up something anymore.
The Lights That Shine, Rusalana Levandovska
Rusalana Levandovska in her studio
Red Streetcar, Rusalana Levandovska
It also has changed how I approach my work - going into the city to find references or pulling photoshoots together in a studio has been increasingly difficult, in particular with lockdown in place. However, as creative we always find ways to cope with various issues that come up, and so - show must go on! As such, I've created a virtual exhibition of my artworks and anyone can now visit from any point of the world and walk the virtual gallery rooms! All in all, it's a balance."

See more of her work here: Facebook, Instagram, her portfolio, and her online exhibition.