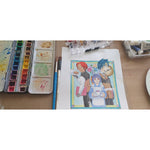 Show Your Space | Sarah Lau
My name is Sarah Lau; I'm a South-East Asian artist who moved to Toronto in 2009. When I was a child, I love to draw from my imagination and create stories. In middle grade, my art teacher encouraged me to pursue illustration as a career. I wish to showcase my art in a gallery. 
Sarah Lau's Studio
I am also a hobby painter; I like to explore different mixed media techniques.  Only me and my sister are the artists in my family, so my influences come from school gallery visits, workshops and watching artists paint online. I currently attend Seneca College of Applied Arts; which introduced me to watercolor, printmaking and acrylic art. Thanks to the experiences, it extended my knowledge of art than before.
Sarah Lau's Studio
For my space, I organize my supplies in baskets, as I felt it would be a useful and eco-friendly way to store them. I like to keep my paints in compact rectangle tins. I am steadily collecting more watercolor journals and sketchbooks these days. As an artist, I believe we are always growing and learning about our art skills. I can look back at my old paintings and see a difference, a few months later.
Mango Study, Sarah Lau
Three years ago, I was hired as a picture book illustrator for a children's book call: When I Grow Up, this children's book can be found on the FriesenPress online store. In the past, I have self published my own comic zines and now I'm working on my own YA graphic novel as well as children's comics.
When I Grow Up, Sarah Lau
 Mona Lisa after Osamu Tezuka, Sarah Lau
Portrait of Sarah Lau
When 2020 started, it was a big struggle for me to find a freelance art job or get a book agent. To ease my boredom, I start to return to painting and try out gouache on different kinds of paper. When my college used to be open, I would go walk downtown to urban sketch and attend my favorite event; the Toronto Comics festival in the library during May.
See Sarah's work on her Instagram, Twitter, and her website.