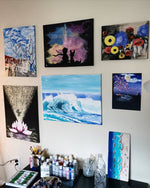 Show Your Space | Svetlana Lovoukhin
This week's Share Your Space Artist is Svetlana Lovoukhin, 

"My name is Svetlana Lovoukhin, and I am a self proclaimed artist/doodler and painter who is currently learning UX/UI design through various platforms and freelance projects. I've been drawing since I was little. My parents considered putting me in an art school to develop my skills, but when I was 8 we moved from Russia to Israel, and then from Israel again to Winnipeg, MB when I was 16. I never gave my art career another thought and proceeded to study Early Childhood Education. I worked as an ECE for 6.5 before making the move to Toronto in 2017 to become a flight attendant for Air Canada.
Svetlana Lovoukhin Studio

I made little sketches with coloured pencils and personalized cards for friends and family for birthdays and special occasions, but never found the time to actually sit down and start painting - although I always wanted to, I was away a lot and when I was home I was recovering from a long flights and fighting the Jetlag.
Fast forward to March 2020, I got grounded along with thousands of other flight attendants. I felt a little lost at first, my life style dramatically changed and I decided this was the time to catch up on all the thing I always wanted to do but never had to time for.
Svetlana Lovoukhin Studio
Svetlana Lovoukhin Studio
My landlord who lives near door, offered me an old wooden easel and a small side table he had hanging around in his garage which I gladly accepted. I quickly repainted the table as a practice run, then made a very essential trip to Dollarama, geared up with a cheap set of synthetic brushes, a sketchbook, a couple stretched canvases of various sizes and bottles of acrylic paints (one of every colour I could find) and got to work. I've sketched away and then got the confidence to make a few brush strokes on the canvas, which quickly became my very first painting.
Daffodils, Svetlana Lovoukhin
Lilies, Svetlana Lovoukhin 

After getting laid off and my roommate moving out I was determined to make things work and ensuring all my bills are paid was a priority, but I was determined to keep on creating with even the cheapest materials at hand. The brushes were always the greatest to work with, the paint wasn't of the highest quality, but my little studio became my happy place. As the world was turning upside down, I was cut off from my family and friends back in Winnipeg, laid off and grounded - I felt safe, hopeful, magical and proud of my progress with every brush stroke I made.
Toronto Cityscape, Svetlana Lovoukhin

My art became a reflection of the changes I was going through this past year.
Last month I signed a lease on a new condo downtown and yesterday I packed up my first little studio.
This was my pandemic baby, and I am so so excited to rebuild it in my new place, hopefully after a trip to your store with some better quality materials, and maybe even one day a real easel :)"
See more of Svetlana's work on her Instagram.