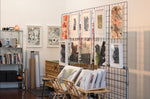 Show Your Space | David Brown
Our final Share Your Space Artist of the week is David Brown.
Working During the time of Covid:

"Like most during the first mandated shutdown, I faced an unexpected pause. I cooked more, drank more, and pondered more. I managed the sudden abundance of time by taking long walks and exploring the eerily deserted landscape. I am grateful to have had my camera and sketchbook to record the quiet moments that I witnessed amidst the unfolding chaos.
Wandering the streets between my home and studio was surprisingly cathartic—all senses were heightened by the unusual absence of humans. Without the urban din, I was able to hear the birds, the wind, and the distant sirens. There was a post-apocalyptic feeling on the empty streets. Fences, walls, and barricades seemed strangely out of place or without purpose, and lonely objects given a voice. 
0
After many months and passing seasons, things opened and closed as we entered a second and third wave. Isolation always looms near. Traveling to my studio every day has been extremely important. My personal sanctuary has given me time and space to reflect upon and translate the observations and emotions that I have been collected during this time of flux and change."