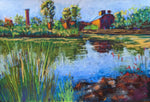 Our Artist Community | Yasir Hameed
Yasir Hameed is a self-taught artist with a background in Architecture and Urban Planning. He has been painting off and on since 2010, picking up a more regular painting schedule from 2020.




Yasir's inspirations come from life, places, buildings, and landscapes around him, and his recent work primarily explores urban landscapes using impressionistic and abstracted representations of the physical world with saturated and contrasting compositions. He enjoys working in watercolour, gouache, and acrylic paints.




Yasir is also an avid photographer with a keen interest in cyanotype printing, which also influences his painting practice. He currently lives in Toronto and paints part-time while being a full-time doctoral student at York University.




Website: www.confluencearts.ca/pages/yasir-hameed
Painting-related Instagram: www.instagram.com/yasirhameedarts
Photography-related Instagram: www.instagram.com/_yasirhameed_