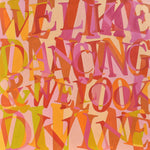 Our Artist Community | Karen Taylor
I am an abstract acrylic painter exhibiting since 2007. My most recent work celebrates the art of typography and the abstract patterns our words create.




Recent exhibition venues have included: Dignam Gallery, Rochester Contemporary Art Center, Westland Gallery, Turnpike Gallery, the Other Art Fair, and the Doncaster Art Fair (UK). I also share a studio/gallery space with three other artists, where I have held various exhibitions and installations.




I am the founding member of Toronto abstract art groups Colourshift Collective and SolidColour, as well as being a member of the Ontario Society of Artists, the Colour and Form Society, and the Society of Canadian Artists.




Website: www.KarenTaylorArt.com
Instagram: @KarenTaylorArt