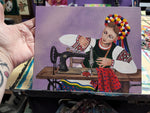 Our Artist Community | Jenelle Greene
My name is Jenelle Greene. I am from Toronto Canada. My acrylic paintings are influenced by my Ukrainian heritage and the love and power of women and culture. 




Canadian born Jenelle Greene has had a life-long interest in art. Although opting for a career in Makeup artistry, this self-taught artist was drawn to art at an early age and combined that interest with her fascination to detail in creating her current acrylic paintings.




In 1994 she studied at Joe Blasco Hollywood Makeup School in Los Angeles California, where she completed the full master class in beauty and special effects. If she is not painting faces on movie sets or red carpets, then she is in her studio creating original works of art. Her love of painting, beautiful women and her fond memories of her Ukrainian heritage is what inspires her. Jenelle is definitely not afraid of colour and it shows in her work, pushing herself to merge her love of her culture, beauty, and art. This is what makes her pieces one of a kind.




Forever learning, always a student Can't wait to see what she paints next. Becoming a Master at her craft.

Link to Jenelle's Website
Link to Jenelle's Instagram