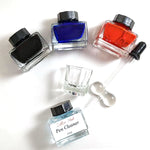 Ziller's Ink is a high quality concentrated versatile ink. It can be used in many artistic creations such as calligraphy, comics airbrushing, ruling pens, and painting. It is perfect using your studio tools such as steel pointed nibs, board edge pens and brushes.

Some key notes about Ziller's inks:
Lightfast- some colour exceptions
Highly pigmented
PH balanced
Waterproof
Pre-mixed
Wide mouth jar for easy dipping
Flows well from both pointed and broad edge pens and nibs
Creates a similar look to gouache when dry
Water soluble- just dilute with distilled water
Easy clean up with pen cleaner
Vegan
Adeheres to many surfaces: paper,canvas,wood,metal,some plastics, glass
Conforms to non toxic ASTM D-4236.

And if all that doesn't get you excited about this amazing ink. How about 32 colours to choose from including:
Aqua Blue Green
Aspen Gold
Azure Blue
Buffalo Brown
Cardinal Red
Charcoal
Cranberry
Daffodil Yellow
Flamingo Pink
French Lavender
Glossy Black
Ivory
Lagoon Blue
Mauve Mist
Meadow Green
Midnight Blue
Nasturtium Orange
North Wind White
Peach Blush
Periwinkle Blue
Prairie Fire Orange
Sterling Silver
Spring Green
Soot Black
Sunflower Yellow
Sweet Grass Green
Tranquil Taupe
Wild Rose Pink
Wild Viola Violet
Winter Sky Gray
Wisteria
Shop all Ziller's Ink. 
Available in 1 oz/29.5ml bottles and sets.