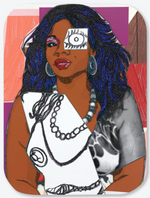 Black Artists Spotlight for Black History Month
February is Black History Month, a time to honor and celebrate Black artists' many contributions to history and culture, including art. In celebration of this month, we at Gwartzman's want to recognize and shine the spotlight on some fantastic Black artists who create inspiring work and who are breaking down boundaries within the art world. 

Denyse Thomasos, a Trinidadian-Canadian artist known for her immense, large-scale abstract paintings. Soaring images of apartment buildings, multi-level parking garages, and scaffolding form abstract cityscapes.
Thomasos's art tells the story of her experience living in Canada as well as making commentary on housing. Her retrospective is currently on display at the AGO.
Denyse Thomasos, Birdie
Benny Bing is a Toronto based artist of Nigerian descent. His ability to capture the emotion on each of his subjects faces shines through in each of his large scale pieces. CBC named Benny an "influential Black Canadian who is expanding and redefining black representation". 
His art practice places great emphasis on documenting the Black experience and exploring ideas of beauty, self-love, and at its core, humanity; all while creating an open space encouraging dialogue on gender equality and identity. His work forces the audience to stop, ask questions, and dive deeper beyond pejorative stereotypes. 
Benny Bing, Syd
Benny Bing, Toni
Emmanuel Nwogbo is a Nigerian-born visual artist who now calls Montreal home. Emmanuel grew up in Lagos, the largest city in Africa. The rich culture and heritage combined with the vibrant energy of one of the world's cultural epicentres exposed him to the arts at an early age through colourful afrobeat musicians such as Fela Kuti, Lagbaja, and more.

As an ambassador for the Nigerian diaspora, Emmanuel's recent works seek to shed light on all aspects of Nigerian culture in a world where preconceived biases and stereotypes about Nigeria are commonplace. He has illustrated the richness and diversity of Nigeria in his current Suya Man Series.
Emmnauel Nwogbo, Alaadin
Emmnauel Nwogbo, At the Indepndence
Anna Binta Diallo is a Canadian multi-disciplinary visual artist who investigates memory and nostalgia to create unexpected narratives surrounding identity. Her work is about blended identities, and borrows from historical facts that intertwine with surreal imagery.
Her works feature a combination of collage, painting, drawing design and video, creating extreme landscapes rich with symbols and metaphors. 
Anna Binta Diallo, The Wanderings
Anna Binta Diallo, Shapeshifter

Gymiah Gariba is a Ghanaian-born artist who moved to Toronto in 2012. Along with being the creator of kid's animated show Big Blue, Gariba uses his illustrations to draw attention to the plight of queer and trans citizens in his home country. 
In 2015, he was named as one of 15 African artists rebranding Africa by Forbes. Relying on caricature as a desired stylistic form to augment reality, Gariba's work presents issues on race and sexuality in subversive ways.
Gyimah Gariba, Jose Louis and the Paradox of Love
Gyimah Gariba, Memorizing You


Bisa Butler is an award winning African American textile artist. She is known for her vibrantly coloured, larger than life sized quilted portraits that captivate viewers around the world.  
At Howard University Butler was able to refine her natural talents. It was at this time that she began to experiment with fabric as a medium and became interested in collage techniques. Butler took a Fiber Arts class where she had an artistic epiphany and she finally realized how to express her art.  "As a child, I was always watching my mother and grandmother sew, and they taught me. After that class, I made a portrait quilt for my grandmother on her deathbed, and I have been making art quilts ever since."
Bisa Butler, Anaya with Oranges 
Bisa Butler, Forever
Mickalene Thomas is a New York based artist best known for her elaborate paintings composed of rhinestones, acrylic and enamel.
Her masterful mixed-media paintings, photographs, films and installations command space, they occupy eloquently while dissecting the intersecting complexities of black and female identity within the Western canon. Outside of her core practice, Thomas is a Tony Awards nominated co-producer, curator, educator and mentor to many emerging artists.
Mickalene Thomas, Le Dejeuner sur l'Herbe: Trois Femmes Noires
Mickalene Thomas, Portrait of Din #4
Kara Walker, a New York based artist is best known for her candid investigation of race, gender, sexuality, and violence through silhouetted figures that have appeared in numerous exhibitions worldwide. 
Walker has also used drawing, painting, text, shadow puppetry, film, and sculpture to expose the ongoing psychological injury caused by the tragic legacy of slavery. Her work leads viewers to a critical understanding of the past while also proposing an examination of contemporary racial and gender stereotypes.
Kara Walker, Kataswoft Karavan
Kara Walker, Fons Americanus

Hopefully you discovered some new talented artists to follow and be inspired by. We'd love to know which Black artists you find influential. Happy Black History Month!