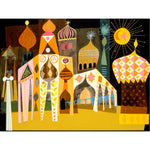 Celebrating Women in Art | Mary Blair
in honour of International Women's Day, Gwartzman's will continue to celebrate women in art throughout March.

Today's artist is Mary Blair, a colour stylist, animator and artist.

Blair is most well known for designing concepts for animation for Walt Disney Studios during the 40s and 50s, including Peter Pan, Alice in Wonderland and Sleeping Beauty. Blair's primary medium for her production artworks was Designer's Gouache (some of our favourite brands can be seen here and here). 
Concept art for "It's A Small World, Mary Blair

Her colour styling was unparalleled, and she was sought after by Disney himself to bring her talent to various films and projects around Disneyworld. Later in life after she left Disney, Blair became an illustrator of children's books, some of which remain in print to this day.
Concepts for Alice in Wonderland, Mary Blair

Her influence on colour and shape can still be seen today across film, television and illustration.