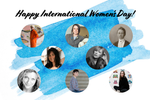 Women Artists | International Women's Day
Today, March 8, 2022 is International Women's Day. a day we celebrate how far women have come in society, politics and in economics, and how much there still is to go. In celebration of International's Women's Day, we wanted to highlight and feature some female artists the Gwartzman's is inspired by and who create inspiring work and who are breaking down boundaries within the art world. 
Sarah Lucas is an English artist and a member of an artistic phenomenon widely known as Young British Artists. Lucas explores themes of feminism and cultural/societal biases through her sculpture, photography, and installation work. She is known for her utilizing puns, bawdy humour, and irony to explore everyday English culture and sexual and psychological tensions. 
Rae Klein is an American artist with works ranging from whimsical to despairing while often featuring a common theme of tension and off situations while exploring uneasy emotions. Klein usually starts her work with browsing for inspiration images or developing photos from second-hand cameras left in thrift shops. Working with traditional oil paint and egg tempura, Klein builds layers of translucent paint to bring to light both visible and invisible boundaries, while creating the feeling of powerlessness. 
Rae Klein Website    Rae Klein Instagram
Anne Tscheigg is a French artist with past experience in advertising and design. Tschiegg focuses on expressing and interpreting her individual perspective, emotions and feelings through various subjects including still life florals, landscapes and portraits. She paints both figuratively and abstractly capturing spectrums of colour and embodying life in her work.
Cindy Sherman is an American photographer and artist known for her photographic self-portraits that depict herself in different contexts and as different imagined characters. She is among the significant artists of the Pictures Generation in the 1970s. Sherman's work plays and explores the idea of identity, playing with the visual and cultural codes of art, celebrity, gender, and photography.   
Lori Dell is a Canadian  visual artist who is best known for her emotionally charged perceptions of traditional subject matter. Her works include abstraction, portraiture, and architecture, all produced with skillful execution of color and material that's often described as bold, spiritual, and meditative. 
Hilma af Klint was a Swedish artist whose paintings are considered among the first abstract works known in Western art history. Her paintings were a visual representation of complex spiritual ideas that sometimes resemble diagrams. She believed that reality was not limited to the physical dimension, but that there was an inner world that was just as real. To convey this Hilma af Klint used letters, words and dualistic symbols to show that everything is a unit.
Laura Callaghan is an Irish illustrator, best known for colourful images overflowing with detail and characters. She mostly hand paints and using watercolour, gouache and pen. It is common to see her artwork often come alive in the shape of murals, animations and gifs. Callaghan's has created illustrations for brands including Footlocker EU and Stella Mc Cartney.
CJ (Catherine Jenn) Hendry is an Australian artist specializing in large-scale hyper-realistic drawings using a self-developed scribbling technique with pen or coloured pencils. Working based off a reference photography, and creating many, many layers, her pieces can take up to 200 hours to complete. Hendry's subjects include luxury fashion items, giant blobs of paint, flowers, and wigs which reflect her fascination with colors and textures as well as their social meaning.  CJ Hendry Website  CJ Hendry Instagram  
We hope you discovered some new talented artists to follow and be inspired by. Let us know in the comments who is your favourite female artist, and Happy International Women's Day!