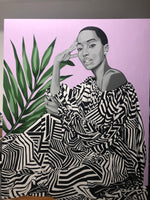 Artist Spotlight: Benny Bing
Benny Bing is a self-taught Toronto based artist of Nigerian descent. His ability to capture the emotion on each of his subjects faces shines through in each of his large scale pieces. CBC named Benny an "influential Black Canadian who is expanding and redefining black representation".  
Portrait of the Artist
Adanna, Benny Bing
Kenya, Benny Bing
Nisaa, Benny Bing
Nkatha,Benny Bing
Benny has shown in 7 major solo shows and several group exhibitions. He has also been shown at major art fairs in Toronto and Art Basel Miami. Benny Bing has produced commissions for Dave Chappelle, The Weeknd and Milos Raonic. His works have been shown at The George Washington University Museum, The Henry Ford Museum, and are currently housed at The Norman Rockwell Museum in Massachusetts, The Daniels Corporation Headquarters in Toronto, and can be found in private collections worldwide.  Benny serves as a Board director for Toronto Artscape Inc, a not-for-profit organization with a mission to make space for creativity and transform communities.