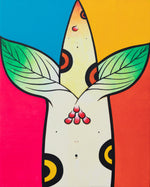 Artist Spotlight: Mitsuo Kimura
Gwartzman's Community Spotlight Post
⁠
Meet today's artist Mitsuo Kimura (@mitsuo.kimura)
Japanese-Canadian artist Mitsuo Kimura was born in Tokyo, Japan, received his BFA from Musashino Art University and first visited Canada in 2007 to study English. He returned in 2011 to complete a BFA at OCADU. ⁠
⁠Kimura brings the rich past with him, building across Japanese and Canadian cultures to develop a unique style, grounded in popular and traditional Japanese art forms, integrating the immigrant challenges of living in a new society. ⁠
⁠
Kimura works in a range of media, from large scale contemplative paintings to small format ceramics, building a universe of characters, encounters, and experiences, that merges Ukiyo-e, manga and anime styles and themes with personal responses to Japanese and Canadian contemporary existence. ⁠
Apples, Mitsuo Kimura
Fairy Bubble Red, Mitsuo Kimura
Keepsake, Mitsuo Kimura
Omphalos, Mitsuo Kimura
Howdy! #1, Mitsuo Kimura
⁠
Kimura has exhibited in Tokyo in group and solo exhibitions including Museum of Contemporary Art Tokyo, World Trade Centre and S-Gallery. He has had solo exhibitions in Toronto, at LE Gallery and Will Kucey Gallery. He has participated in group exhibitions including Art Toronto and Papier 14 in Montreal. He has won several awards for his work and has been purchased for numerous private Canadian and International collections. ⁠
⁠
Inquiries regarding purchases of Kimura's work can be directed to the artist via his website: http://www.mitsuo-kimura.com/ ⁠
⁠
⁠