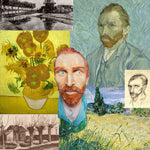 Artist Spotlight | Vincent Van Gogh | Drawings
 "I see drawings and pictures in the poorest of huts and the dirtiest of corners." ~ Vincent Willem van Gogh
Dutch Post-Impressionist Vincent Willem van Gogh was a painter who posthumously became one of the most famous and influential figures in the art world creating 2,100 artworks. During the last 2 years of his life he is said to have created 860 oil paintings. Landscapes, still life's, portraits, and self-portraits, painted with  bold and dramatic colours. These works contributed to the foundations of modern art.
Small House on a Road with Pollard Willows
A serious and thoughtful child his interest in art began at a young age. He was encouraged to draw as a child by his mother,and his early drawings are expressive, but do not approach the intensity of his later work. He was taught  to reject technique in favor of capturing the impressions of things, particularly nature or common objects.
Bench in a Wood
As a student Van Gogh was introduced to watercolours and oil paint. He was also lent money to set up a studio, and could afford to hire models from the street. Enjoying the medium he liberally used the paint, scraping the paint from the canvas. Van Gogh was pleased with the results.
| | |
| --- | --- |
| Self Portrait in Pencil | Self Portrait in Oil |
In summary Van Gogh lead a life of contrast. Creating vibrant and expressive works of art, while leading a life of complicated emotions. His influence on the art world is timeless and our lives will forever be enriched by the depths of this mans soul.
VAN GOGH INSPIRED ART SUPPLIES - CLICK TO LEARN MORE!