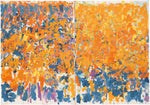 Celebrating Women in Art | Joan Mitchell
Joan Mitchell's career as an abstract artist spanned more than four decades. She is most well known for her paintings but was also versed in lithography and pastel drawings. After attending the Art School of Chicago in the late 1940's, she travelled to France on a fellowship where her painting became increasingly abstract. 
Joan Mitchell, Canada IV
Joan Mitchell, High Water
In the early 50's Mitchell gained a reputation for being a premier abstract expressionist. She also retuned to France permanently , where she would live until her death in 1992.
Joan Mitchell, Champs
 Joan Mitchell, Minnesota
Through abstraction, Mitchell lyrically conferred feeling onto landscape, uniting elements of visual observation and physical experience with an emotional state of mind. She once said, "I paint from remembered landscapes that I carry with me—and remembered feelings of them, which of course become transformed. I could certainly never mirror nature. I would like more to paint what it leaves me with."
Joan Mitchell, Wood Wind, No Tuba
More of Joan Mitchell's work can be viewed at the Joan Mitchell Foundation.