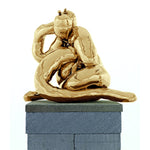 Celebrating Women in Art | Sarah Lucas
Sarah Lucas is a British artist known for bawdy, mischievous and confrontational sculpture, photography and installation.
She rose to prominence in the late 1980's in the contemporary British art world, and was part of the Young British Artists, along with Damien Hirst.
Nahuiolin, Sarah Lucas
Beyond The Pleasure Principle, Sarah Lucas
The Old in Out, Sarah Lucas
Lucas' work displays her feminist attitude in line with raunchy and morbid sense of humour. She also explores the themes and tensions between sexuality and death. Her works reflect and satirise misogynist norms in general life, media and culture.
Self Portrait with Fried Eggs, Sarah Lucas
Nud Cycladic 6, Sarah Lucas
Lucas often uses everyday, common items to make her sculptures, including cigarettes, toilets and household furniture is seen as a nod to Marcel Duchamp, who famously used a urinal in his artwork, Fountain.