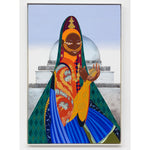 Celebrating Women in Art | Rajni Perera
Rajni Perera is one of Canada's most exciting contemporary artists. She experiments with painting, sculpture and photography.
Dancer, Rajni Perera
Three Figures, Rajni Perera
Perera, based in Toronto, executes her vision of imagined and dystopian futures. Using the imagery of her birthplace, Sri Lanka, as well as drawing inspirations from Indian miniature painting, medieval armour, and sci-fi, Perera has created an intriguing body of work.
Neighbourhood Watch, Rajni Perera
Ancestor, Rajni Perera
Traveller, Rajni Perera

Her artwork tackles feminist and diasporic themes, all while considering living in an environmentally precarious future.