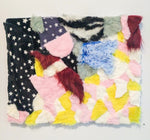 Our Artist Community | Max Middlewood
I am a self taught painter currently living in Bristol, UK. I started painting to help me heal my mind and deal with illness. I began with only oil paints, but now infuse my pieces with colour and variety by incorporating oils, acrylics, pens, fabrics, spray paints etc.


I like to combine text, symbolism, figures, diagrams and textures, all mashed together to create a kind of 'organised chaos'.




My work is a constant diary entry and a mini universe that my soul resides in. It is a constant stream of emotions & experiences.

 
For more of Max's work check out their Instagram.