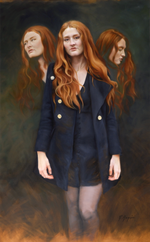 Our Artist Community | Robyn Asquini
Working across traditional media, Robyn creates figurative works and still life paintings with feminist themes. She seeks to combine the techniques and refinement of European masters with contemporary feminist perspectives and subjects. The aim of her work is to create emotionally direct images, focusing on the human form as a central subject, while capturing a sense of the subject's psychology.

Robyn graduated from Sheridan College in 2010 with a Bachelor's in Illustration and from Parsons the New School in 2015 with a Master's in Design and Management.


She worked for over a decade as an art director, illustrator, and graphic designer, contributing to publications that include Muse Magazine, Elle Canada, Flare Magazine, More Magazine. She also worked for in-house agencies, including at Macy's and Gladstone Media. During this time, Robyn attended evening and weekend figure drawing sessions, continuing to hone her technical skills.



After moving to Toronto, Ontario in 2018, Robyn enrolled at the Academy of Realist Art. She is currently completing the final level of the Academy's program while creating a new body of work out of her personal studio at the Academy. 


⁠Robyn is having a studio sale this week on Thursday October 13th from 4pm-9pm. Original studies, drawings and small paintings are available for purchase. Prices range from $150-$2000. Book your studio visit today by sending her message on Instagram or by email at Robyn.asquini@gmail.com.


For more of Robyn's work:
Instagram
Website