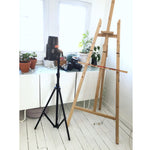 Show Your Space | Eileen Reilly
"So before Covid I was working as a commercial and fine art photographer. Even without the lockdown in March and restrictions on working I knew I would have to do something else. I have a heart condition so even when lockdown lifted I couldn't take a chance.
To help have just something to do and for my mental health I went back to painting. I happened to do a house portrait for one friend and a pet portrait for another and all of a sudden I was in that business. Also while looking for art supplies (and thank you Gwartzman's for your selection of professional art supplies and prompt delivery!) I started thinking about making my own watercolour and working with other artists in the city who need to pivot too.
So I set up
www.yhmartsupply.com
where we sell those watercolours as well as handmade paper, ceramic palettes and leather and wool felt storage/carrying cases for pens, brushes and sketchbooks. 
So I made some changes to my studio on the third floor of our house in Hamilton. I have a better mat cutting area now and all of my tools nearby. I'm using a separate desk for painting and even dragged out my old easel from under the eaves. I have plenty of storage and everything is close at hand. I love spending time here which is fortunate as I can't spend it anywhere else."