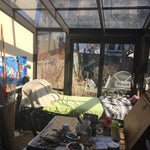 Show us Your Space | Linda Snowden
We've got a new series of artist spotlights - Show Your Space, dedicated to how people have adapted to creating at home during the pandemic.⁠
⁠
Let's start off with this post from Linda Snowden (@llsnowden)
⁠
"Above is my sunroom, which provides natural light for drawing, painting, and photographing my art.⁠ During the pandemic I began sketching and painting with ink and watercolour, as they are less toxic to air in my small space. I had them already, but never used them much... a perfect time to experiment.⁠
⁠
My former studio space was downtown, Project Art (@projectarttoronto). Our teacher Ewa Stryjnik, gave us an Instagram account and sends us a weekly paint together challenge, which many of us now enjoy. So cool to see different interpretations of the same photo.⁠
⁠
I also sketch and paint independently, to relieve stress . Go vaccines! Can hardly wait to get back to real life. Until, this will do."⁠
⁠
Linda Snowden's home studio
Untitled painting, Linda Snowden
Untitled ink drawing, Linda Snowden
Untitled painting, Linda Snowden