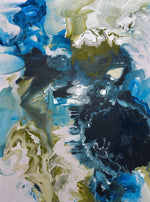 Our Artist Community | Joan Callister
Joan Callister, born in Sarnia, Ontario, graduated from McMaster University, Hamilton, with a Bachelor of Arts Degree. Her fine art studies began at SAil, Calgary, then continued at Conestoga College, Kitchener, Sheridan College, Oakville, in the Fine Art Fundamentals program, Cambridge Galleries, Visual Arts Mississauga, and Haliburton School of the Arts, as well as attending several artist's workshops.


Joan is an avid photographer with a unique vision and uses her photography as a reference and inspiration for landscape and abstract work. She began painting in watercolour, and then delved into the texture of acrylic and oil paint, and uses knives and other mark-making tools to apply paint to substrates. Joan next discovered printmaking, particularly monotype and collograph, combining her landscape photography, love of oil paint, and an etching press. Currently, her passion is abstraction and non-objective work using acrylics, oils, wax, and various mixed media.



Joan has studied extensively, at a master level, with her mentors Lila Lewis Irving and Janice Mason Steeves. She has attended several workshops with numerous artists, locally and internationally, and thrives on knowing she will continue to seek new techniques in her quest for learning and to enhance her expertise and expand her style. She has completed online studies with Nancy Hillis, Studio Journey, and also with the Museum of Modern Art in NYC, In the Studio: Postwar Abstract Painting.




Joan is a past participant in several printmaking shows in Guelph, and also in Cambridge at the Printmaking Fair at the Cambridge Galleries Design at Riverside. She has shown her work at Gallery M, in Cambridge, and RICA Gallery, Guelph. Joan has participated in the Square Foot Show, with founder, Julia Veenstra. She is a current member of the Guelph Studio Tour and the Bruce Peninsula Society of Artists. Her work has sold to private collectors throughout Canada.
Joan divides her time between Guelph and Tobermory. The Bruce Peninsula and the shores of Lake Huron provide a constant source of raw beauty and wonder, from which Joan shares her exposure, being at one with nature. She is fortunate to have a working studio in each location, where the creative possibilities are endless.




For more of Joan's work:
Website
lnstagram
Glow Gallery