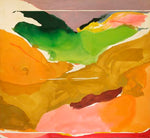 Celebrating Women in Art | Helen Frankenthaler
Helen Frankenthaler's career spanned six decades, and is considered to be one of the great American artists of the twentieth century. She was prominent among the post second world war American abstract painters. Her work is part of an important transition from Abstract Expressionism to Color Field painting. 
She expanded the possibilities and techniques of abstract painting. Her work paid homage to figurative and landscape imagery in distinctive ways. Frankthaler's work has had a huge impact on the contemporary art world.
Helen Frankenthaler, Tales of Genji III
Helen Frankenthaler, The Sightseers
Frankenthaler was a continual experimenter during her long career. In addition to producing unique paintings on canvas and paper, she worked in a wide range of media, including ceramics, sculpture, tapestry, and especially printmaking.
Helen Frankthaler, Snow Basin
Helen Frankenthaler, Red Travels
Helen Frankenthaler, Nature Abhors a Vacuum
"There are no rules... that is how art is born, that is how breakthroughs happen. Go against the rules or ignore the rules, that is what invention is about." See more of Helen's work at the Helen Frankenthaler Foundation.